VRML WORLDS BY JEFF HARRINGTON


Pagan:FloatingWorld - With 3D Audio (200K)

A world inspired by the plains of Pagan (pronounced pah-GAHN) of Burma and lucid dreaming.

Fun Tip: While riding one of the moving viewpoints hit "Straighten" repeatedly.
You'll get more variety to your moving perspectives.
Requires no JavaScript nor Java and is 64K VRML and 173K Audio, (200K) complete.
Music is 10 seconds of "Turning the Pearl" electronic music by the same author.

Need a VRML Plugin? Get it here





VIRTUAL HARMONIUM East Coast Mirror

A musical instrument which produces ecstatic harmonies derived from the harmonic series.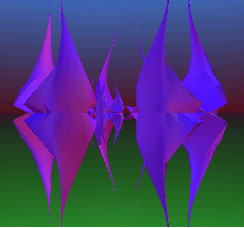 Universal Ghost Collector

A world built for the collection and dispensation of the dead. Original dirge music by the author. Approximately 580K.
Fixed for Cosmo 2.1!




Go deep into the world of stellated icosahedra.
Be sure to check out all of the viewpoints.
There are spinning worlds within. (5.5K)


The Virtual Harmonium's Evil Twin
Music for Hungry Ghosts...
This instrument uses a tuning first suggested by Wendy Carlos
which mis-tunes the 12 notes of the chromatic scale in such a way that they
are related by octave relationships to the harmonics of the lowest
tone of the instrument. This causes what would normally be very
dissonant chords and clusters to resonate in new and interesting ways.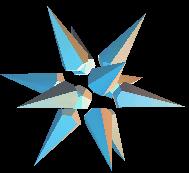 WORK IN PROGRESS: BOUNCING STAR (6K!)

Just got Truespace 3.0 and here's a bit of a world I'm working on. It's a complex polyhedral form which is animated through TS3's physical world modelling routines.





ABSTRACT MUSEUM OF FRACTAL FORMS





CLOUD BUTTERFLY MUTATION WORLD








NET IN ARCADIA IMPOSSIBLE POLYGONS SCULPTURE GARDEN